Dr Janet Gritzman BA, BDS(Wits), P.D.D.(PTA)Dip Odont Endo(PTA), Dipl.Dent (Conscious Sedation & Pain Control)(UWC)
Why is it important to clean my baby's mouth and teeth?
Cleaning a baby's mouth and teeth is important for the preservation of healthy teeth and gums, and maintaining the general health of the child. By instituting a teeth-cleaning routine into the child's daily hygiene it sends a positive message to the child that caring for ones teeth is important.
How do I clean my baby's mouth and teeth?
From Birth till about 3 years:
At bath time a small clean gauze pad or dry wash cloth can be used. The teeth, gums and tongue are firmly wiped to remove liquid and food debris. Once the teeth have erupted the cloth can be dipped into a fluoride mouth rinse before wiping the teeth.
From 3 – 6 years of age:
When the child is old enough to hold and manipulate a toothbrush, which generally occurs at about 3 years of age, the child can be given its own toothbrush with a miniscule amount of toothpaste and encouraged to brush his/her own teeth. There are a large variety of very good childrens' toothbrushes and toothpastes on the market. The size and shape of childrens' toothbrushes are especially designed for easy manipulation. They have small heads, soft bristles and can be easily gripped.
Please Note:
This should be in addition to the mother (care giver) cleaning the child's teeth with a toothbrush or gauze and not instead of it.
The element of fun
One should aim to make teeth cleaning a fun, mother (care giver) / child bonding experience. If an activity is viewed by the child as enjoyable rather than a chore it will gain its own momentum. This is the best way to ensure that good oral hygiene practices are maintained for life.
Some ideas on how to do this:
When you are bushing your own teeth, put the child on the vanity slab of the bathroom and let him/her brush their teeth at the same time.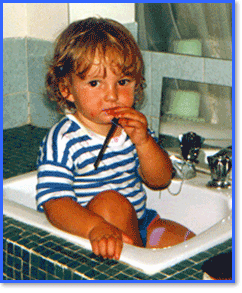 Children love to copy and participate in important activities.
A star chart and words of encouragement and praise go a long way to make oral hygiene fun and important in the child's mind.
From 6 years of age:

Floss the teeth
Brush teeth – using a pea size amount of toothpaste
Massage the tongue gently
Rinse with a teaspoon of mouth wash (containing fluoride) for about 20 seconds. This must be done under parental supervision to ensure the child does not swallow the mouth rinse. After using the mouth rinse the child should not eat, drink or rinse his mouth out with water for at least 20 minutes.
This oral hygiene routine should be done under the watchful eye of the parent. The parent should evaluate how well the teeth were cleaned. If the child is not cleaning his teeth properly the parent should then clean the child's teeth. A good way to monitor how effectively the teeth are cleaned is to use disclosing solution tablets after brushing. These can be purchased from ones dentist.
How often should children brush their teeth?
Children's teeth should be cleaned twice a day. Ideally in the morning after breakfast, and at night before going to sleep. After brushing the teeth at night nothing should be eaten or drunk except water.
When should I start to floss my child's teeth?
Once the teeth have erupted the mother (care giver) should floss the child's teeth. As soon as the child has the manual dexterity the child should be encouraged to floss his/her own teeth. This generally occurs around 6 years of age. Again not instead of the mother flossing, but in addition.
Flossing, as well as being important for oral hygiene, is very good fine motor coordination training.