Dr Geoffrey Melman BDS MSc(Dent)(Witwatersrand) Speciality in Paediatric Dentistry (U.K.)
The premature loss or unsightly appearance of grossly decayed primary anterior teeth (nursing bottle caries) fig. 1 ("baby" or "milk" teeth) may physically handicap, embarrass and psychologically traumatise a young child.1,2,3,4 Left untreated, decayed teeth may cause pain and infection resulting in damage to the developing permanent tooth5 and feelings of personal inadequacy. 2, 3 Treatment of these badly decayed teeth will prevent pain and infection and assist the child to a better social and emotional adjustment.6,7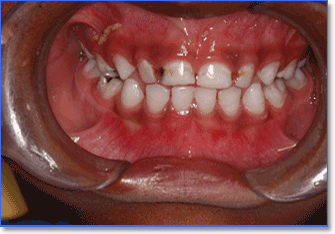 Fig. 1 – Nursing Bottle Caries
Treatment plans advocated for grossly decayed primary anterior teeth include extraction,8 partial dentures9,10 and restoration with various types of crowns e.g. Stainless Steel Crowns,7,11 Acrylic Jacket Crowns, Preformed Celluloid and Polycarbonate Crowns12 and chemically cured composite resins (tooth coloured filling material).4,13,14,15,16
Aetiology of Nursing Bottle Caries
Nursing bottle caries fig. 1 has derived its name from the uncontrolled use of the bottle fig. 2. The complex cause of nursing bottle caries has been fully covered in the article by Prof Sid Setzer on this web page.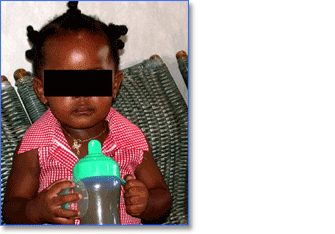 Fig. 2 – Child with nursing bottle filled with juice
Extraction of Decayed Teeth
The premature extraction of the diseased primary teeth is advocated only if the teeth are decayed beyond possible repair8 fig. 3. One should always bear in mind that the age of the patient is not an acceptable criterion in determining whether a primary tooth should be extracted. It should be noted that the loss of teeth can lead to numerous problems such as psychological trauma (children are very cruel towards each other),1,2,3,5,6,7 the inability to bite and chew food,5 developing tongue trusting and poor speech,1,5 loss of space with resulting orthodontic complications,2,7,17 tilting of adjacent teeth, the overeruption of the opposing teeth with resulting periodontal problems (gum disease),7 as well as the formation of fibrotic tissue (hard gums) which can retard the eruption of the permanent teeth.7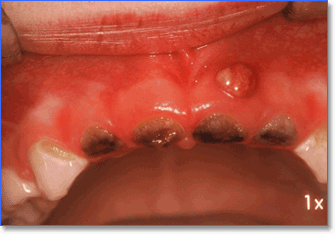 Fig. 3 – Grossly decayed primary anterior teeth with an abscess present
Partial Dentures
Partial dentures are a cost effective means of replacing lost or extracted teeth.1,2,7,9,10,18 Children readily adapt to the partial denture and find them comfortable to wear.10 fig. 4
A partial denture fig. 5 is advantageous in maintaining space,7 preventing the tilting of adjacent teeth,2,7 preventing the formation of fibrotic tissue7 encourages the eruption of the permanent teeth, does not interfere with the development of the upper jaw,7 provides normal dental function,2,7,19 maintains normal facial contours2,9 and aids in the attainment of normal speech patterns.2,7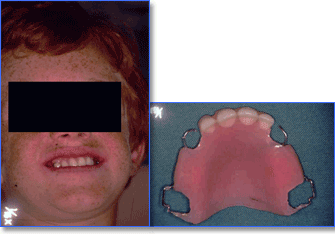 Fig. 4 – Child wearing partial denture as shown in Fig. 5
The major disadvantages of partial dentures are that they encourage plaque retention,5 which caused the original tooth decay; the partial denture is often lost at school and in the uncooperative child, the partial denture may not be worn.2
Crowns
The placement of crowns provides a very satisfactory means of restoring anterior teeth.4,11,13,15,16,20,21
Stainless Steel Crowns
These preformed crowns are routinely used to successfully restore posterior teeth fig. 6 and have been used to restore primary anterior teeth as well.7 However, they do not match the colour of the adjacent teeth and are therefore unsightly.11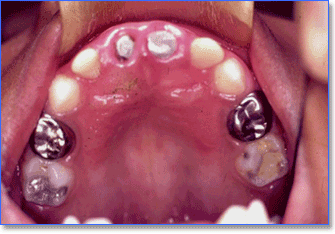 Fig. 6 – Stainless Steel Crowns on posterior teeth
Acrylic Jacket Crowns
Acrylic jacket crowns offer excellent aesthetics, are insoluble in oral fluids and resist surface staining.2,15 However, the material wears away rapidly, is expensive and the process requires long dental appointments.15
Composite Resin Crowns or "Strip Crowns"
Composite resin (tooth coloured filling material) can be successfully used for full coronal coverage to crown severely damaged primary teeth.4,13,14,15,16,20,21 These composite resin crowns look just like normal teeth fig. 7, wear well,16 prevent the development of a tongue thrust and bad speech habits, prevent the formation of fibrotic tissue with delayed permanent tooth eruption, prevent loss of space and the child cannot loose or fail to wear the crown.4,16 Composite resin can be polished to a smooth lustre thereby decreasing plaque accumulation. This cost effective treatment option does not require long dental appointments and lasts the life of the primary tooth4,16 and is thus the treatment of choice when restoring decayed primary anterior teeth.4,16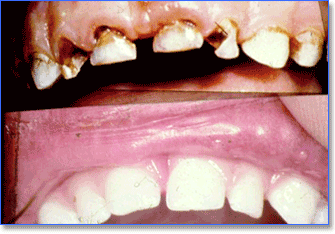 Fig. 7 – Nursing bottle caries of anterior primary teeth (top picture) restored with composite crowns (bottom picture)
References
Cockburn, A. and MacGregor, A.R. (1961) Treatment of the edentulous child. The Dental Practitioner, 11,309-313.
Rao, S.R. (1973) Removable partial dentures for children. In Clinical Paedodontics, Fourth Edition, Ed. Finn, S.B., Ch.12, Pages 271-285. Philadelphia: W.B. Saunders Company.
Fisher, N.L. (1985) Restoration of anterior teeth: a transitional approach for the young adult. British Dental Journal, 158, 445-449.
Rosen, M., Melman, G.E. and Cohen, J. (1990) Changes in a light-cured composite resin material to restore primary anterior teeth: an eighteen month in vivo study. Journal of the South African Dental Association, 45, 251-255.
Joho, J and Marechaux, S.C. (1980) Prosthetic problem and solution in the primary dentition: report of a case. Journal of Dentistry for Children, 47, 50-52.
Laird, W.R. (1970) Immediate dentures for children. Journal of Prosthetic Dentistry, 24, 358-361.
Borjian, H. (1978) Removable prosthetics in pre-school children. Journal of Pedodontics, 2, 246-250.
McCallum, C.A. (1973) Oral surgery for children. In Clinical Paedodontics, Fourth Ed. Finn, S.B., Ch. 18, Pages 391-393. Philadelphia: W.B. Saunders.
Esposito, S. and Vergo, T.J. (1978) Removable overdentures in the oral rehabilitation of patients with dentinogenisis imperfecta. Journal of Pedodontics, 2, 304-315.
Weintraub, S.G. and Yalisore, I.L. (1978) Prosthetic therapy for cleidocranial disostosis: report of a case. Journal of the American Dental Association, 96, 301-305.
Croll, T.P. and Blum, J.R. (1982) The stainless steel crown for a primary canine tooth: a pictorial essay. Journal of Pedodontics, 6,301.
Finn, S.B. and Ripa, L.W. (1973) Properties and uses of restorative materials. In Clinical Pedodontics Fourth Ed. Finn, S.B., Ch. 9, Pages 178-181. Philadelphia: W.B. Saunders.
Webber, D.L. (1979) A method of restoring primary anterior teeth with the aid of a celluloid crown form and composite resins. Pediatric Dentistry, 1, 244-245.
Croll, T.P. (1984) Dentin Adhesive Bonding: new applications (II). Quintessence International, 11, 1123-1129.
Croll, T.P. (1985) Primary canine full coronal restorations: new considerations. Quintessence International, 2, 143-147.
Melman, G.E. (1988) Changes in a light cured composite resin material used to restore primary anterior teeth: an eighteen month study. Research report submitted to the faculty of dentistry, University of the Witwatersrand, in part fulfilment of the requirements for the Degree of Master of Science in Dentistry.
Wright, P. (1971) Partial dentures for children. New Zealand Society for Dentistry in Children Bulletin, 16, 4-5.
Borjian, H. (1960) The effect of early dental treatment of anhydrolic ectodermal dysplasia. Journal of the American Dental Association, 61, 555-559.
Kobren, A., Salvin, O. and Petrie, R.F. (1962) Partial denture prostheses for children. Dental Clinics of North America, 12, 761-777.
Doyle, W.A. (1979) A new preparation for primary incisor jackets. Pediatric Dentistry, 1, 38.
Rifkin, A.J. (1984) Acid-etch restorations in primary anterior teeth. Journal of the Dental Association of South Africa, 39, 385-387.